Evangelical Christianity is a minority in Poland.  Of 38 million people, it represents only 0.4%.  Discouraged church leaders often drop-out after a few years of ministry.  Business leaders frequently feel overwhelmed or ineffective.  Golden Apple Institute fills the void of professionally trained leaders who have a heart for God and discipleship.
Training, networking and building integrative communities of trust positions many churches, ministries and businesses on a trajectory of growth and success.  Participants experience the impact of leadership coaching and practical applications in their lives, taking this knowledge back to their staff, congregations, employees and businesses.   
Evangelical leadership is multiplied in Poland through the
Golden Apple Institute.
What are the benefits of leadership training?
Through a variety of tools and personal learning experiences, ministry and marketplace leaders develop more confidence, expand their visions and grow more certain and fulfilled in their calling.
Participants often network with one another, experiencing a community of grace where they can share openly and minister to one another.  They learn "to trust God and others with who they really are" (TrueFace).
Through relationships of trust, leaders build covenant friendships that make a difference in their lives and ministry.  Often, an accountability structure ensures that goals are realistic and can be met.
The most important result of leadership development is equipping leaders to become disciple-makers throughout Poland.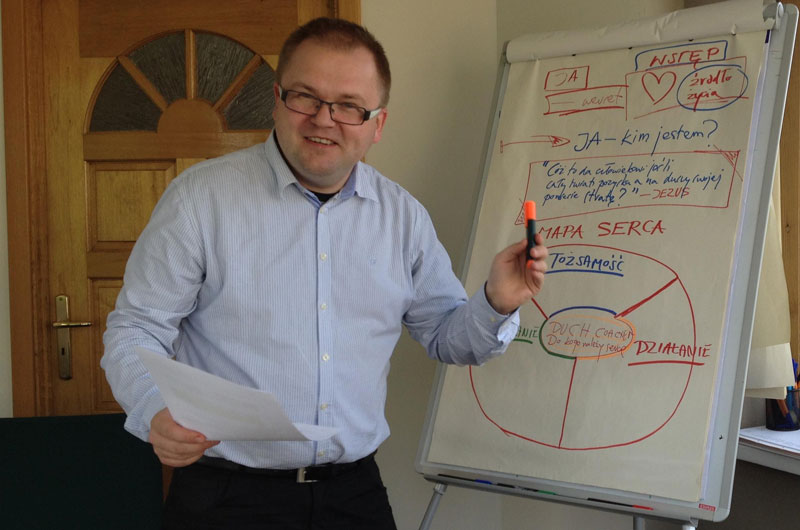 What does a leader experience through training?
Fellowship with other leaders which minimizes feelings of isolation and loneliness within their ministries.
Spiritual authenticity that enhances a person's personal growth and ability to maximize their talents and leadership confidence.
Additional margin

 through strategic task delegation and renewed focus on ministry/business and family priorities.

Balance and accountability by being a faithful steward in all areas of life.
Participation in a confidential community of grace that reveals truth in issues, builds trust and addresses the deepest heart issues in the lives of leaders.
Professional and practical materials and tools to be strategically applied in a ministry or business.
Prayer support from trusted covenant friends and peers in ministry.
The small group workshops were a great encouragement to me.  When I returned to my hometown, I shared these experiences with other pastors.
With God's help, I will bring them back to the next meeting so we can build unity among the pastors in our city.
My husband and I appreciate the opportunity to be with other church leaders in a "safe" setting to discuss matters and challenges that we face. We feel a true bond of fellowship, understanding and support.  Golden Apple is a great way to share resources and to build relationships between churches throughout Poland.
We coordinate efforts with other churches, gain valuable advice from others while feeling that we are ministered to, also.
Partner with Golden Apple
Your support can help accelerate leadership & discipleship training in Poland and Central Europe.