Wojtek and Agnieskza Kowaleski are founders of The Golden Apple Institute, a 13 year-old Christian ministry based in Wroclaw, Poland.  The Golden Apple Institute focuses on leadership development, coaching and transformation to pastors, church and marketplace leaders.
Both Agnieszka and Wojtek are gifted facilitators and presenters of licensed training curriculum from well-respected organizations such as MetaFormation Leadership Institute by Tony Stoltzfus and Career Direct.  Whether coaching one-on-one or presenting to 5,000 people at a city rally, their content is biblical and inspiring.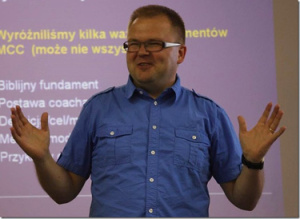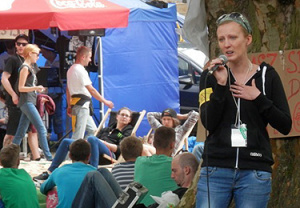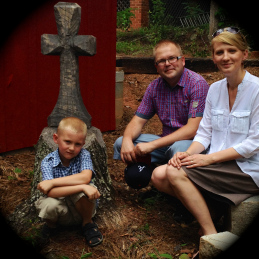 Wojtek Kowalewski
Wojtek is an ordained pastor with a PhD in Practical Theology from the University of Wales. He was a professor at the Evangelical School of Theology in Wroclaw for over eleven years.  He developed the School of Leaders program, Open Academy of Theology and was Head of the Missions Department.  View his story here.
His doctoral thesis was Transforming Mission in Post Communist context:  Towards an Integrative Approach.
He is the author of numerous international and Polish books and publications, both academic and popular.  Wojtek is a columnist in two major magazines in Poland and contributes to various scholarly journals.  He is also the producer and voice for Right from the Heart media ministry in Poland.  He speaks at numerous academic and marketplace conferences on leadership, missions and practical theology.
Early in his career as a pastor, teacher and national conference speaker, Wojtek saw that many of Poland's ministry leaders were discouraged and isolated.  In addition, there was a void in Christian leadership training and no means to build a trusting and confidential community for ministry and marketplace leaders.  At this time, God confirmed His calling of Wojtek's life to help Christian leaders grow in excellence and effectiveness. He and Agnieszka founded the Pastors2Pastors ministry which is now a division of the Golden Apple Institute in Wroclaw.
Wojtek is one of the founders, a board member and mentor for the Leadership Center of Education which is a training program for lay and ministry leaders within the Baptist Union of Poland.  He is also a certified coach with international credentials from the MetaFormation Leadership Institute and CoachWise.
Whether Wojtek is presenting leadership training to a small group or to hundreds at a conference, he is well-versed in all aspects of communication, leadership training and coaching.
Reference Bibliography for book and articles by Wojtek Kowalewski.
Agnieszka Kowalewski
Agnieszka  received her teaching certification from Cambridge University in England. She is an experienced English teacher and translator.  Currently she translates for Right from the Heart media ministry. View her story here.
She whole heatedly believes that Christian coaching and mentoring are tools for leading others on their journey of learning, growing and building on one's strengths.  Within the Golden Apple Institute and network, she is known as a gifted relationship builder, helping ministry leaders connect with and support one another.
Additionally, Agnieskza is a certified consultant for Career Direct  "Crown Personality Tests which is a personal growth resource designed to maximize God-given talents and abilities. More than a simple career test, it analyzes four critical areas:  personality, interests, skills, and values from a biblical perspective (Most other career assessments only analyze one or two areas.).  She is certified in coaching from MetaFormation Leadership Institute and Coachwise.  She serves as a mentor in the Leadership Center of Education.
The award-winning Voice of the Gospel media company produced Agnieszka's personal testimony. This moving story has been broadcast throughout Poland.
Agnieszka and Wojtek are the parents of 11-year old, Dawid, who is the greatest mission in their lives!  Dawid starts the fifth grade in August of 2018.